Even though the New York Knicks are currently the laughing stock of the NBA, there was once a time when the Knicks were nearly unstoppable. Let's dive into the greatest Knicks players of all time.
5. WILLIS REED
An anchor in the Knicks two championships, Willis Reed was a rebounding and scoring specialist. Reed was voted one of the top 50 NBA players of all time. Reed is one of the most prolific players not only for the Knicks but for the league.
4. BERNARD KING
A scoring machine in his prime dropping 50 point games left and right. He was unguardable in his prime. Even though he got injured, Bernard King is undoubtedly the second best scorer to play for the Knicks.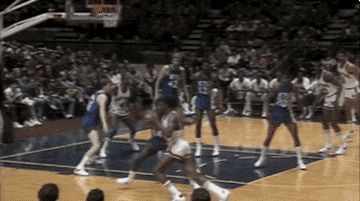 3. WALT FRAZIER
Before Patrick Ewing there was Walt Frazier. Walt Frazier had several Knicks records and was the franchise player during the Knicks two championship runs. Walt Frazier LOCKED UP JERRY WEST IN THE 1973 Finals!!!. He put the "best player" at that time in the torture chamber. 
2. CARMELO ANTHONY
The definition of a walking bucket. Carmelo is arguably the top ten best scorer the league has ever seen. Even though he did not see a lot of success with the Knicks, we can all agree it was not for lack of trying.
Before we get to number one we have some honorable mentions:
Charles Oakley
Earl Monroe
Dave Debusschere
Bill Bradley
1. PATRICK EWING
There is no argument Patrick Ewing is the greatest Knickerbocker of all time. A monster in the paint with unbelievable rebounding capabilities Ewing was unguardable as a center. Ewing rise came at the time of his airness Michael Jordan who stopped Ewing's quest for a title several times. The issue was never really Ewing as is the case with Melo, the team just never had a good supporting cast. One person cannot win a championship and even without the Championship, Ewing is one of the best players to ever touch a basketball.