Lets get caught up on some league news, shall we?
First, and obviously foremost. We are in the heart of the Stanley Cup Finals, with the Dallas Stars and Tampa Bay Lightning deadlocked at one win a piece. Game 3 is Wednesday night and will certainly prove to be a pivotal win for either side.
Historically, the winner of Game 1 of the Stanley Cup Finals goes on to win the cup 76.25% of the time, or 61/80. The Dallas Stars took Game 1 by a score of 4-1. Dallas controlled the pace of play for the better part of 40 minutes. Then the 3rd period happened. Tampa rattled off 22 shots in the final 20 minutes, but was unable to turn any of those shots into goals. Anton Khudobin quite literally stood on his head. 
The Bolts offense got off to a hot start in the 1st period of Game 2, scoring three times in just three minutes and 53 seconds. That burst of offense would prove to be enough, as Dallas was only able to beat Andrei Vasilevskiy twice throughout the night. You can find highlights of Game 2 below ?.
So, who wins it all? I believe that Tampa is still the better team overall. I know, I've bet against Dallas every single round, and every single round they've proven me wrong. But trust me on this one. Ready? Tampa in 6.
I asked fellow WYExpect? Writer and hockey fan Brett B. for his prediction.
Tampa in 6.
Book it.
HIRING'S AND TRADES A PLENTY
Jim Nill, the GM of the Dallas Stars has made it clear. If current interim head coach Rick Bowness wants the permanent full time job of head coach next year, it's all his. One would expect that after such an improbable and spectacular run to the Stanley Cup finals this year, Bowness will certainly be returning as the bench boss.
In other interim coach news, interim coach of the Calgary Flames, Geoff Ward, is interim no longer. He will stick around in Calgary as the head coach for good.
Just as quickly as Todd Reirden was fired, he was re-hired by his old squad, the Pittsburgh Penguins. Reirden will return to Pittsburgh as an assistant coach, replacing longtime assistants Mark Recchi, Sergei Gonchar, and Jacques Martin.
Moving to the general managers, there were two hiring's within the last two weeks. Bill Zito was named GM of the Florida Panthers and Bill Armstrong was named GM of the Arizona Coyotes. Both general managers have quite the battle ahead of them. Zito must find a way to build around franchise players like Jonathan Huberdeau, Alex Barkov, and goalie Sergei Bobrovsky.
For Armstrong, his job is not one to be envied. The Coyotes are very much up against the cap and have no relief in sight. There have already been numerous rumors about the potential of trading high end pieces such as captain Oliver Ekman-Larson and goalie Darcy Kuemper.
The trade front has been pretty active as well. Per NHL.com, here is the timeline of trades that have occurred while bubble hockey has been played.
AUGUST 25: Pittsburgh Penguins acquire forwards Kasperi Kapanen, Pontus Aberg and defenseman Jesper Lindgren from Toronto Maple Leafs in exchange for 2020 first-round pick, forwards Evan Rodrigues, Filip Hallander and defenseman David Warsofsky.
SEPTEMBER 2: Montreal Canadiens acquire goaltender Jake Allen and 2022 seventh-round pick from St. Louis Blues in exchange for 2020 third-round pick and seventh-round pick.
SEPTEMBER 11: Minnesota Wild acquire forward Nick Bjugstad from Pittsburgh Penguins in exchange for conditional pick in the 2021 NHL Draft.
SEPTEMBER 12: Montreal Canadiens acquire defenseman Joel Edmundson from Carolina Hurricanes in exchange for 2020 fifth-round pick.
SEPTEMBER 16: Buffalo Sabres aquire forward Eric Staal from Minnesota Wild in exchange for forward Marcus Johansson.
Some of these moves are real head-scratchers. For example, Eric Staal for Marcus Johansson. Staal has had a career revitalization during his tenure as a member of the Wild. Johansson has not been the same dynamic playmaker that he once was as a member of the Washington Capitals. He's certainly still productive enough, amassing 30 points in 60 games this season. But was this trade really needed? Who wins? Only time will tell for that one.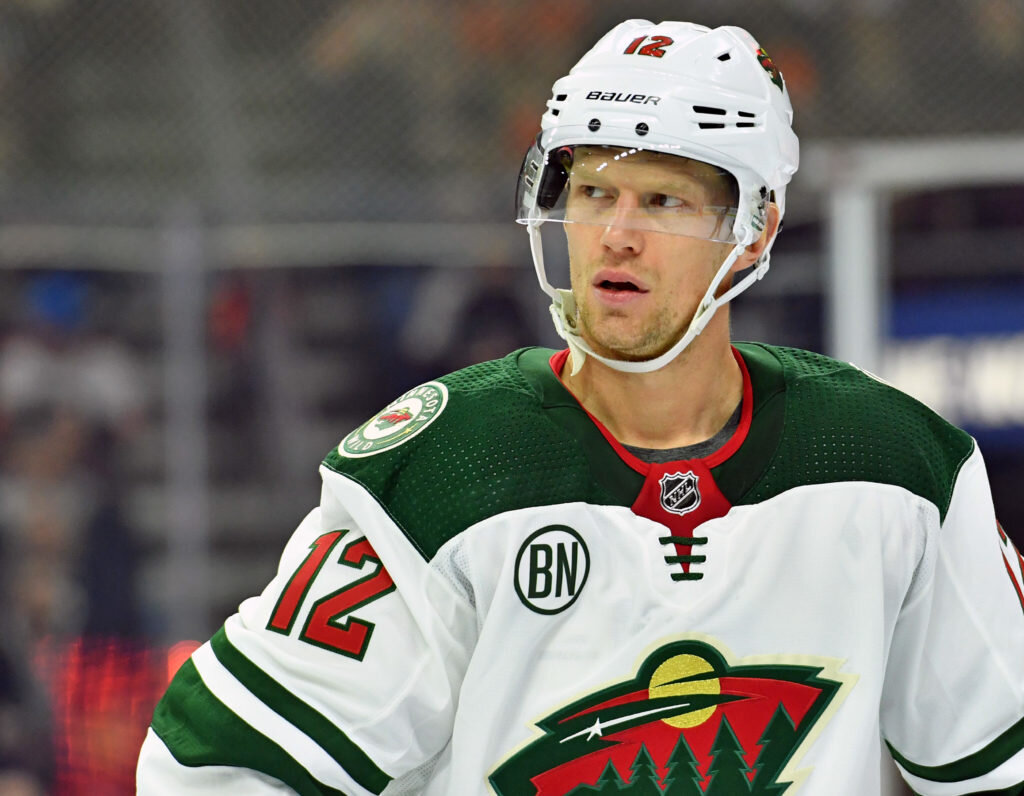 Kasperi Kapanen returning to Pittsburgh, the team that drafted him, is another interesting deal. Kapanen had one decent year of production last year, scoring 20 goals and gathering 44 points all together. Kapanen receives criticism for his lack of consistency. He's known to "disappear" for stretches of games, almost as if he was invisible on the ice. Of course, sticking Kapanen on a line with someone like Crosby or Malkin could certainly provide the spark that he needs to unlock his true offensive potential.
In the last seven drafts, the Penguins have only had 2 of their first round picks, Kapanen being one of them. Jim Rutherford, GM of the Penguins, is notorious for being aggressive and spending picks for players when he believes there is a deal to be made.