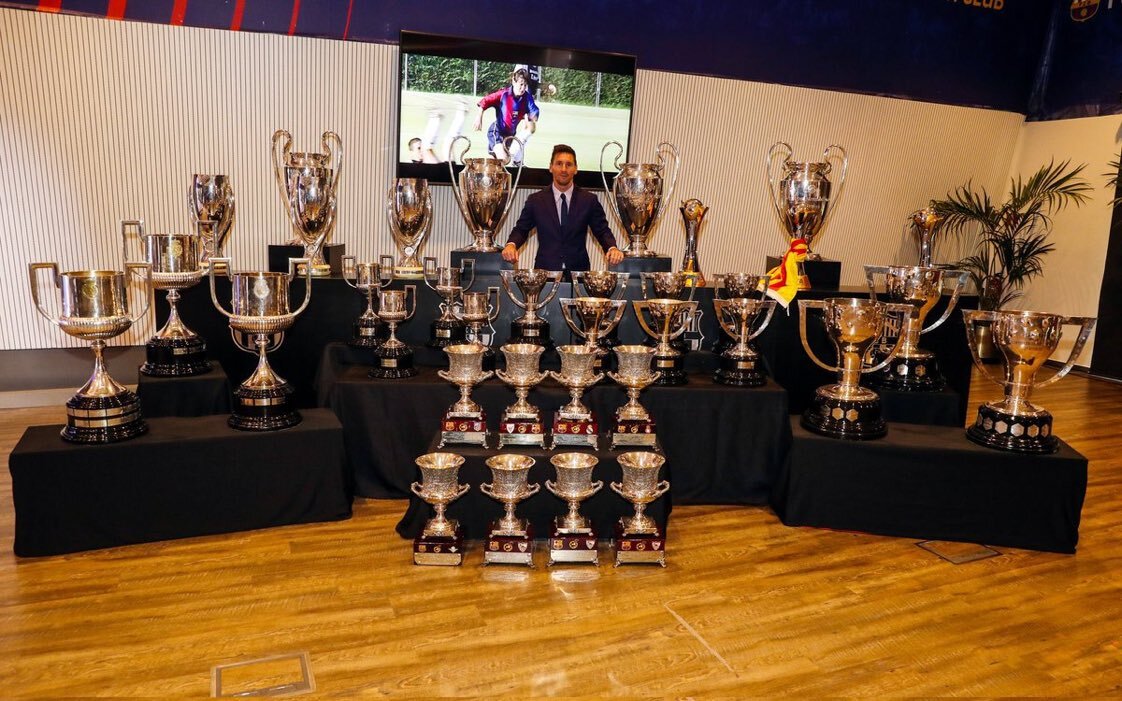 There was a slight glimmer of hope that Lionel Messi's departure from Barcelona was a bluff. One theory was that the shock announcement from newly elected Barcelona president Joan Laporta was a risky attempt to extract an exception to La Liga's salary cap rules.
Another theory was that Laporta was trying to force Messi to take an even larger cut to his salary than the reported 50% the star was willing to make to stay at the only club he's ever known. None of this seemed real up until the moment Messi took the podium for his farewell press conference for Barcelona Football Club.
The next time we see Lionel Messi take the pitch, it will not be in a Barcelona shirt. The shocking announcement on Thursday came after weeks of reports that an extension was imminent. Messi was supposed to renew his deal 5 years, ending his European career in a Barca shirt before a possible move to MLS as a club ambassador.
This drew a stark contrast from the events of the previous year when Messi tried to force his way out of the Catalan club after former President's Josep Bartomeu gross incompetence forced an appalling record of the Champions League embarrassments and the near financial ruin of the club.
A new president, Laporta, insisted he could get Messi to stay, then promised that a deal was coming soon, only to renege at the last minute due to La Liga's strict financial regulations.
Messi's relationship with Barcelona appeared to transcend the typical athlete–franchise relationship. It was somehow bigger than Michael Jordan with the Bulls, Derek Jeter with the New York Yankees, or Tom Brady with the New England Patriots. Messi literally grew up in the club, joining them as a child and making his way up the ranks of the academy before taking the world by storm.
As Barcelona redefined football under Pep Guardiola, Leo stood at the center of the revolution. He was the unlikeliest of superhumans defying physics and redefining our understanding of what was possible in sport nearly every time that he touched the pitch.
That Messi managed to reach such incredible heights during his insane career with only one club made the connection between player and club even more legendary, to the point that detractors used his accomplishments against him when the same success eluded Messi on the international stage.
Now that relationship is over. It was ultimately done in by Barcelona's financial realities that make them incapable of keeping the Argentine demigod in their colors. Paris Saint Germain, armed with a limitless supply of money, is sitting in pole position to sign the megastar, with reports of a deal being finalized in the next 48 hours.
Messi will join his former teammate and good friend Neymar to pick up where they left off at Barca. Joining the two on the front line will be French phenom Kylian Mbappe, creating one of the most fearsome attacking tridents in recent memory. There's no doubt that a team led by the MNM trio will reclaim the Ligue 1 title and be the favorite to hoist the Champions League trophy, the first in club history for the Parisians.
The club that Messi leaves behind has a host of questions to answer, starting with whether or not the board did everything in its power to retain Messi. Barcelona's dire financial situation has been known about for months, yet the club hasn't been overly successful in its efforts to relieve the bloated wage bill.
All Barcelona followers want to know if there were additional buttons to press in negotiations with La Liga. Could more have been done to retain the one player that may be bigger than the club? Were there new sponsors or financial arrangements available to help alleviate their financial burden somehow? We may never get a satisfactory answer, but the general feeling is that the board dropped the ball (no pun intended).
This is not the ending that Barcelona fans envisioned for Lionel Messi. He spent the last year and half of his career with Barca playing in empty stadiums, failing to win neither a La Liga title nor a Champions League Trophy. Messi still wants to win, a point he reiterated during his tearful goodbye. Barcelona was simply not equipped to do that last season and the upcoming campaign was not guaranteed to be much better.
Perhaps now that the greatest player of all time is out of the team, Barca can move forward with a squad refresh. Messi's individual brilliance prevented the club from plummeting out of the top 3 but also meant they couldn't move on from stalwarts like Sergio Busquets, Jordi Alba, or Gerard Pique.
There are reasons to be optimistic about the future: Frenkie De Jong, Pedri, Ansu Fati, Riqui Puig, Yusuf Demir, Ronald Araujo, Serginio Dest, and Oscar Mingueza are all bright young talents in the first team that are capable of ushering in a new era. Manager Ronald Koeman has been more willing than his predecessors to give young players a chance in the squad, so look for that to continue.
That said, the board has to fix things quickly. Laporta's regime may get a reprieve for a year or two, especially if young players get ample playing time.
But if they continue to hold onto this SuperLeague pipedream, start missing out on the Champions League, and are unable to recruit the next generation of stars like Mbappe and Dortmund striker Erling Haaland, Mes Quen un Club may come to mean nothing more than just another shittily run business headed down the drain in a hurry.