There is always the question in hip-hop about the content being real. When the music is real, it makes it that much easier to relate to the artist. Being able to tell your story through music is tough, it could be a lot to get off your chest. Make no mistake though, Play goes out of his way to tell his story. This is a therapy session for him, a chance to express his feelings without feeling so alone. You can go through his whole catalog and see the man tell his story through multiple EP's and his albums The Ambient Bliss '16 and What I Tell Kids.
There aren't many like him; in fact, his music is different from a lot of rappers. It isn't structured as you would typically hear from most artists. I got the chance to ask Play about his start in the rap game, depression and anxiety, his unique style of music, and future projects he is working on.
Tell me where you're from my man?
Spartanburg, South Carolina man.
South Carolina, not too many rappers out there.
We got a good bit, just not as known as the other cities, yet anyways.
So where did you get the name Play from?
You know what man, I have gotten that question so many times man. I honestly don't have an answer it just came to me when I decided I was going to start taking rap seriously. I was thinking about what I was going to call myself, and I really just something that symbolize me, something that is simple. Nothing too crazy, and that just came.
Got you, because your name on Instagram is "PlayMyShit" I thought that would have been a cool name too.
Nah that was just the handle, I was trying to think of clever names and that just came out like shit, my name Play let's just go with PlayMyShit. Clicks nice.
When did you start getting into music, when did you know that this was the career path you wanted to go down?
No lie, I didn't want to rap. I was like 14 or 15 when I used to freestyle with my older brothers and shit. I had a friend I used to freestyle for and he told me you need to start making music. At that time I didn't have nothing to say, I knew I can rap but I don't have nothing to talk about so I just waited it out. I think about 2017, that is when I made the step forward to take it more serious and put everything into it.
Weren't you putting out EP's before 2017 too?
Yeah, yeah, yeah, I was putting out a lot of things sporadically that I would record in a day or so. I was just put it out to get my name out there.
I was going to say, for someone who at one time wasn't taking it as seriously as you are now you were getting a good amount of plays on the earlier EP's like Freeverse and Saturdaze.
Yeah, that was the first thing I put out. Freeverse was the first thing I did, think I did it in an hour session. I liked the way it sounds so I just put it out.
Talk about living in South Carolina, because you don't hear many artists come from there.
It is pretty urban and quiet. Not a sports town, it really is just simple living for the most part. I like it, fits my personality so it's good for me.
Is it a lot easier making music there as opposed to the big cities.
I think it would be easier in terms of out-reach if I lived in New York or LA. The type of person I am and music I make, it would be way easier to go out there and get a following. But here it is a lot less distractions I can just focus on making music and doing what I need to do.
So you start putting these EP's out on SoundCloud, what was the reaction to them that you were noticing?
I would say people I knew were surprised I was rapping and doing the things I am doing. As for me, that never really played a part. I am never proud of anything that I do, which is a gift and a curse. It allowed me to fine-tune things that I can get better at. But it gets to a point where I ain't enjoying nothing. The fans and people who follow me might enjoy it, but to me, I'm on to the next, I am never living in that moment. But for the most part, I am getting positive reviews.
So you would say you are basically a perfectionist in this game?
Oh yeah, basically. I do more studying in rap than writing. Studying artists I idolize and model my style after. Those the people I am chasing.
So when I put out my top-50 albums of 2019 and you were number 4 what was the reaction to that?
I was surprised bro, I am not going to lie. I was very surprised because I know that you fuck with my shit. You and Popular Demand Podcast were the people outside of the state that were going hard for me. So seeing my shit at number 4 was motivation, that was big. That was my Grammy.
That is awesome to hear honestly. We are going to get to that album in a minute though. So you started putting out music when you didn't think this was going to be a consistent thing. What was that moment for you that changed all of that?
After my first recording session man. One of my best friends, my brother Cory he forced me to go to the studio, he paid for the session. He was like "look man you going to go in there and kill it" and I remember exactly what I recorded on. The "Hoover Street" instrumental, Schoolboy Q just fucking around on it. I remember hearing myself for the first time and I was like woah, I can really do this shit.
Your first full-length project was The Ambient Bliss '16, now what was your mindset during that time? Is it a completely different zone from just dropping an EP?
Yeah, definitely. EP's are more so loosies for me where I'm just like emptying the vault in a way just to let people know that I am still here. But album wise, I don't call them tapes they're albums to me, I focus on the concepts. I try to keep a cohesiveness when it comes to production and sound. That isn't the hardest part for me, it's the sequencing know what I am saying? Once I get that down, I add the transitions. I might add a second part to a beat, might add a verse. So it's more-so I am locked in and more scientific in a way where I am just trying to put it together.
So on The Ambient Bliss '16, you talked about the summer of 2016 and the title refers to happiness. Yet it wasn't always happy things talked about; on the track "For The Culture" you talked about retiring. Was it just you expressing different emotions?
Yeah, basically I get into that mode where I am jotting down everything I am feeling personally and I bring it together. The Ambient Bliss came from after I was finished with it, I was happy. I never name anything. I never name songs until I'm finished with them. Once I finished it and it was therapeutic in a way, I felt like that perfect name for the album.
And that is what I wanted to ask you since you said therapeutic, it seems like your music is more you getting off your feelings that you keep inside. Is that the best way to explain your music or the way you rap?
Oh absolutely, definitely man. I never wanted to rap like I said. I felt like I was chosen to do it, it was in me. I felt like as long as I am doing it, I want to fill my purpose and inspire others. So that is why I am doing it. Which may seem like my songs are short or much of a rapper structure that you might be used to. It's more-so me venting, what I felt like that day. I just fit it into a beat.
Right, and it feels like the best way to describe what you are saying is with your latest full-length album What I Tell Kids which is a Dom Kennedy reference. You were more therapeutic on there talking about depression, addiction and everything else. Is that your therapy?
It is definitely my therapy, when I am in the booth it feels like a blind confession. I can tell everything to the mic and the beat, and it tells me back. It helps me in a way because I am able to get all of that out.
Exactly, like a lot of times you are saying you are a broken spirit or questioning if God is still with you, so are there a lot of times where the inspiration isn't there because of those feelings?
Oh definitely man, people may not believe this but since What I Tell Kids (September 26, 2019) I maybe wrote two, three, maybe four verses I would say. It's more-so with me I got to live and experience things and then I can go back and produce something that I think is great. I never noticed that until I became a rapper.
I can tell by your music you have to naturally go through things for you to make a project. Not something where you can half-ass it anyways, especially on What I Tell Kids. So how long did it take to make that album and go through those emotions?
Like, two-to-three months. Something like that. It don't take me long once I'm locked-in. It's all about actually getting in that zone.
Why did you put this album on AudioMack as opposed to SoundCloud like all your other projects? I meant to ask that friend-to-friend but since we are here might as well ask.
I just wanted to try something different. I did my research when it comes to partnerships and like certain sets where SoundCloud artists can get into festivals and stuff like that and how he can build his fan-base and relationship. I think AudioMack is the better streaming service.
I would absolutely agree, I moved my podcast from SoundCloud to Anchor. Are you going to move all your stuff on AudioMack from SoundCloud? You put your latest EP Phases on there and that is why I was confused as to why that happened.
Yeah I had some issues uploading it to AudioMack for whatever reason when I promised I'd drop it. So I just said shit, fuck it.
So this is all solo stuff you're putting out, is it more-so you not wanting to work with anybody?
I don't know, damn that is a good question. No one has asked me that one yet. I really don't have interest working with somebody. Not that I am opposed to working with somebody if the opportunity presented itself. But I don't really have no interest, like when it comes to albums it's like art, like a painting. This is what you are going to be remembered by when you are dead and gone.
So you feel like it takes away from your story almost?
Yeah, because they not going to be able to say what I say pretty much, you know what I'm saying. Like if it was someone I knew and saw the things that I been through then I'd be up to it, but I feel like getting an artist on a song because he's hot, that's not really my thing.
Back to The Ambient Bliss '16, there was a song/interlude ("A Poker Interlude") where you broke-down your issues of being depressed, having anxiety. It was right before "Quarantine Flow" which is funny for this thing we are going through. Is this something that you were going through your whole life or did these issues just start?
It started around my sophomore year of college. I started feeling different, I remember having my first anxiety attack my sophomore year, and I went to the emergency room and my blood pressure was crazy high. It was like a whole summer of me going through that shit, and I would just sit down and record. Shit was rough.
Does that affect the way you make music in a bad way or is it a motivator?
It's a motivator, you know certain artists that speak on mental health but there isn't a lot of artists outside of, rest in peace Mac Miller, that talk about this shit and relate to it. I ain't going to be a sad rapper by any means, but basically just say I'm human just like you. Just because I rap or whatever, I go through whatever you go through.
That is the biggest reason why I like your music, it is cool to hear about your situations in your music. In rap you don't get a lot of rappers telling your story. Who is inspiring you these days?
My favorite rappers right now at the moment; Roc Marciano, Dom Kennedy, Curren$y. In terms of inspiring me to rap, I'd probably say Boldy James. I fuck with Boldy. Freddie Gibbs and Nipsey Hussle as well.
You talk about addiction as well, is that something you are still going through now?
I'm over that now, it was basically borderline addiction. A lot of pills, self-prescribing myself like "oh I need this in order to be here" I would pop a Xanax shit like that. I was becoming something I didn't want to be. I was able to catch it before it got any worse luckily.
When you named the album What I Tell Kids was it a message to the kids, to everyone or like Dom Kennedy respect?
I'll tell you the concept of the album, basically when you think about the production is stripped down. No drums, no 808's it is pretty much loops as simple as you can get. How do you get a kid's attention? Simple shit. Things I was saying was straight to the point, short songs and concise message. That was the main goal, getting right to the point of it.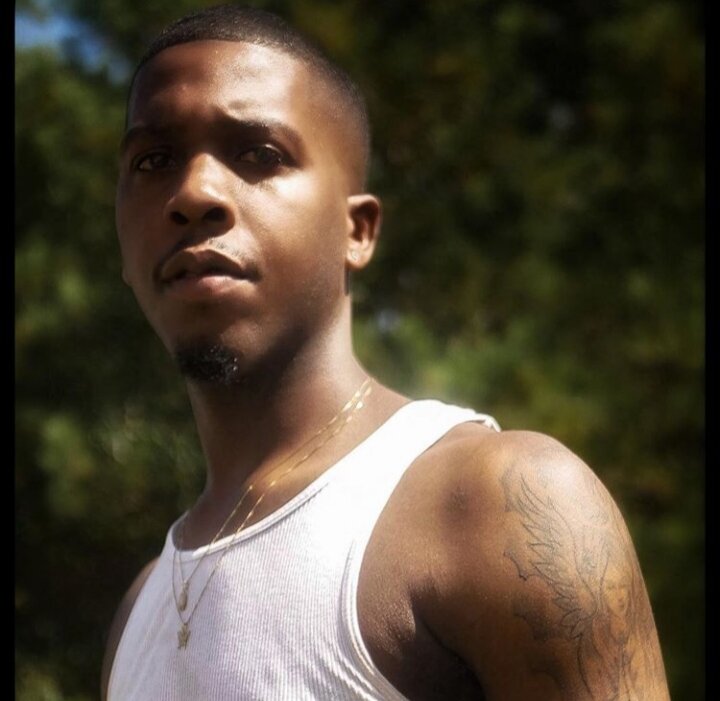 I would say you have a pretty loyal fan-base now: that album is at 5,000 stream which is impressive considering I didn't even know what AudioMack was until you told me. Was it weird telling them to go somewhere else for your album?
I took a chance man, I felt like the music was good enough where the music was good enough, if you fuck with me you'll get to download the app and stream it.
Can you give us a hint as to what is next for 2020 or maybe next year?
Yeah, the project I did is basically done. 90 percent done basically, still got mix-and-master it. It is going to be something people don't expect I'll say that much. If you heard What I Tell Kids, don't think that is what you're going to hear on this one. It should be on all streaming platforms, and we got music videos coming.
Give me your four albums with no skips
1) Dom Kennedy – Get Home Safely
2) Freddie Gibbs – Pinata
3) Jay Z – Reasonable Doubt
4) Young Jeezy – The Inspiration
IG: playmyshit
Twitter: @raheemwoodruff