---
There's really no better way to say bye than toodles, this isn't up for debate. It's my hill!
It's hard to feel bad for an enterprise that has taken the spirit of slavery and ran with it for a…touchdown. Literally a touchdown, look at how much the coaches at these major FBS programs are making while the players get nothing—sorry, they get an education, forgot about that.
In a perfect world, I would love the XFL to be able to serve as a developmental league for the NFL but the truth is there is SO MUCH MONEY in college football beyond just the coaches. Nevertheless, I am happy this "amateurism" angle has turned into some sort of net positive for these "student-athletes" in the face of the dangers of playing amidst the COVID pandemic.
---
The Of All The Hills (OATH) tester episode should be hitting the streets shortly, in it my guests and I talked about BIG MALA being selected—we weren't the most thrilled at the pick.
Two things can be true: the historical moment of a Black VP can be celebrated while criticizing the merits of Senator Harris' track record. As I brought up in OATH, I do believe she will seek to take on a more "for the Black folks" platform in this role especially upon seeing the reaction her appointment has garnered from said community by and large.
If your goal is to get dude up outta the White House then it really is what it is at this point. For what it's worth, I hope she proves me wrong. #StillTeamSusan
---
You know you're knee deep in Donald Trump's 2020 when you read a headline about Russia and are surprised they beat Trump to performing the same act. If this love affair is going to continue, we might as well just merge already. Our Olympic hockey team would be BALLER!
Of all things to leave in 2020 which is really all of it, I'd like to start the list with the politicization of science. I have to tip my cap to Trump and friends for making something seemingly as firmly rooted as science into some sort of liberal talking point. I'd like to opt out of this whole America business and join Tom Hanks as a naturalized Greek citizen.
---
RIP to Cannon Hinnant, may his killer be arrested, charged and sentenced. There is no gray area here in terms of what should happen nor what the "national media response" should be to this heinous act.
To equate this senseless and disgusting killing with the senseless and disgusting killings of Ahmaud Arbery, George Floyd and Breonna Taylor shows a lack of critical thinking. To believe these are appropriate comparables is quite simply laughable, but its good to know the dog whistlers understand the idea of justice being served when someone loses their life for no reason, we'll write that one down to refer back to later.
---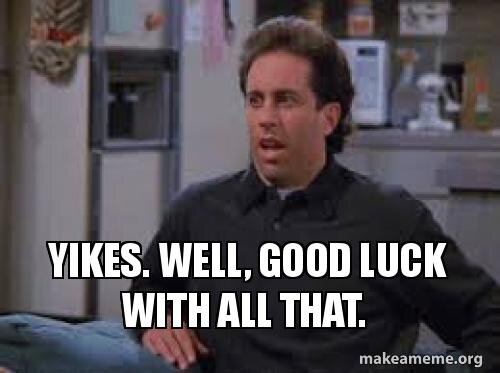 ---