After finishing Godfather of Harlem, I have finally turned my attention to 90 Day Fiance as I have been told countless times by Jaymes and Stephen to do so. IT. IS. AMAZING. I started with the Before the 90 Days bit, and I think most of these dudes are marks.
I can't wait to see how this all unfolds. If anyone would like to discuss this with me, please do. Don't ruin it for me whether or not Sean and Chris end up scrapping over Abby or if homeboy catches Jenny talking to the other dudes she was talking to on Facebook. I wanna be shocked.
---
It really doesn't add up to me that people insist that deference and respect be paid to the anthem and/or flag when said country continues to show a complete and utter lack of care for the lives of a sector of its citizens.
This was such a perfect demonstration. Am I going to sit or kneel? Nah, just not even show up for it. Sounds about right. Bravo WNBA for getting it right.
Go Liberty!—move back to Jersey please 🙂
---
I'm not sure how we can make any real progress on the COVID front if places like Walmart and Home Depot aren't mandating masks. Like you don't want to wear your mask when you're out and about you baby, fine. But if you're going to be in a store, especially very popular ones like these that's not a wild ask. And what people are going to boycott? LOL yeah right.
Honorable Mention:

If Tom Hanks says its time to dip from the States, then I guess its time to dip
---
Getting a bag to join BIG PHARMA has to be the illest promotion ever, right?
Please note that this is Eastman Kodak, they lost the rights to the mononym when the rapper from Florida jacked the name while these camera dudes were in business purgatory
If Trump doesn't come outta this with major Eastman Kodak stock, he's dumber than I thought. Because that has to be what this is about. Has to be.
Shout out to them for the promotion though, what a fucking bailout huh?
---
Is Biden going to give Kamala a chain like the record labels used to have when he picks her for VP?
Honorable Mention:
---
With how crazy 2020 has been, seeing a headline about aliens, sex and COVID is not the least bit shocking
I am glad the aliens have come out to debunk this hurtful theory that has arisen about their people and the spread of COVID. I, for one, believe them. And you should too.
"We can assure you, based on years of research, that it is perfectly safe for Earthlings to have sex with aliens," the aliens wrote. "In this, as in all matters, it's important to follow the science."
Honorable Mention:

FINALLY a President rids the suburbans of their locust issue
---
Oh, Big Bully doesn't like getting made fun of?
Honorable Mention:

In very shocking (insert sarcasm maker here) news, Bill Clinton linked to Epstein's island
---
I would've said 'Two Americas' here, but the NHL is clearly Canadian
---
SONG OF THE WEEK PRESENTED BY SLAMMA 2 GRAMMA
Die Happy featuring Marcus Aurelius by Dwa n Jay
---
SHOUT OUT OF THE WEEK PRESENTED BY UNAPOLOGETICALLY ME
Colin Kaepernick and Anthony Fauci
Recipients of the Robert F. Kennedy Human Rights Ripple of Hope Award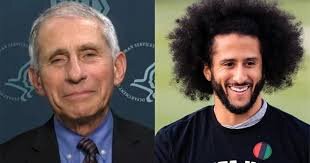 ---